Convenience and Comfort Systems
Motors for opening and closing automobile windows. Mitsuba's compact and lightweight power window motors feature a high-powered design, which caters to a wide range of automobiles, from

light

cars to luxury cars, as well as eco-cars. Available types include one-push-of-a-button opening/closing type and anti-pinch protection.
Power seat motors adjust driver seat position. Our extensive lineup includes motors for reclining, sliding, lifting, headrest movement (vertical), and lumbar support.
Motors for opening and closing automobile sunroofs. Mitsuba's compact and

lightweight

design can be used in a variety of automobiles. The unit also includes a pinch-detection mechanism.
Device for opening and closing sliding doors of mini vans, etc. Our compact, lightweight yet high-powered products cater to a variety of automobile types. The unit is also equipped with a pinch

-

detection mechanism.
This device features a function that opens the fuel

l

ock when the driver engages a switch inside the car, and a function that locks the fuel lid when door lock is engaged.
Relays open and close the electrical load circuit and are designed to withstand various environmental conditions.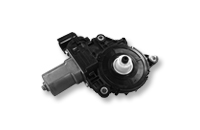 Mitsuba offers both flat and spiral standard horns. Our flat horn can also be used for security purposes.